Top Backlinks Diagrams
As our ongoing research continues to yield new and proven diagrams, you can expect regular updates on this very page. Stay tuned for the latest insights and tools in the ever-evolving field of SEO backlinks diagrams.
Link building DIAGRAM: Video Embedding Power - CODE: E34FE2Q30
Description:
This diagram, brimming with a multitude of web 2.0 blog tasks, serves as an invaluable asset for elevating the rankings of your YouTube videos. For optimal results, it is highly advised to seamlessly integrate your video's URL within the content of the article.
DIAGRAM: 1>3>12 - CODE: 54EABM61
Description:
Among the preferred diagrams in the toolkit of both seasoned SEO specialists and newcomers, this diagram takes its foundation from web 2.0 blog tasks and incorporates select social signals. 
This compact yet potent diagram yields consistently excellent outcomes. Its strategic design is especially effective for large niches, allowing for the execution of campaigns multiple times, ranging from 10 to 20 iterations, tailored to the scale of the niche.
DIAGRAM: SEO CROWN POWER - CODE: 8F45A1VAL
Description:
Designed explicitly for navigating the challenging terrain of highly competitive niches, this diagram stands as a strategic cornerstone in the arsenal of SEO specialists and digital marketers.
DIAGRAM: DOUBLE CROWN OF POWER - CODE: FFC591VAN
Description:
Crafted with utmost precision and ingenuity, this diagram emerges as the ultimate solution tailored to the demands of fiercely competitive niches. Unleash its potential to conquer the most challenging SEO landscapes.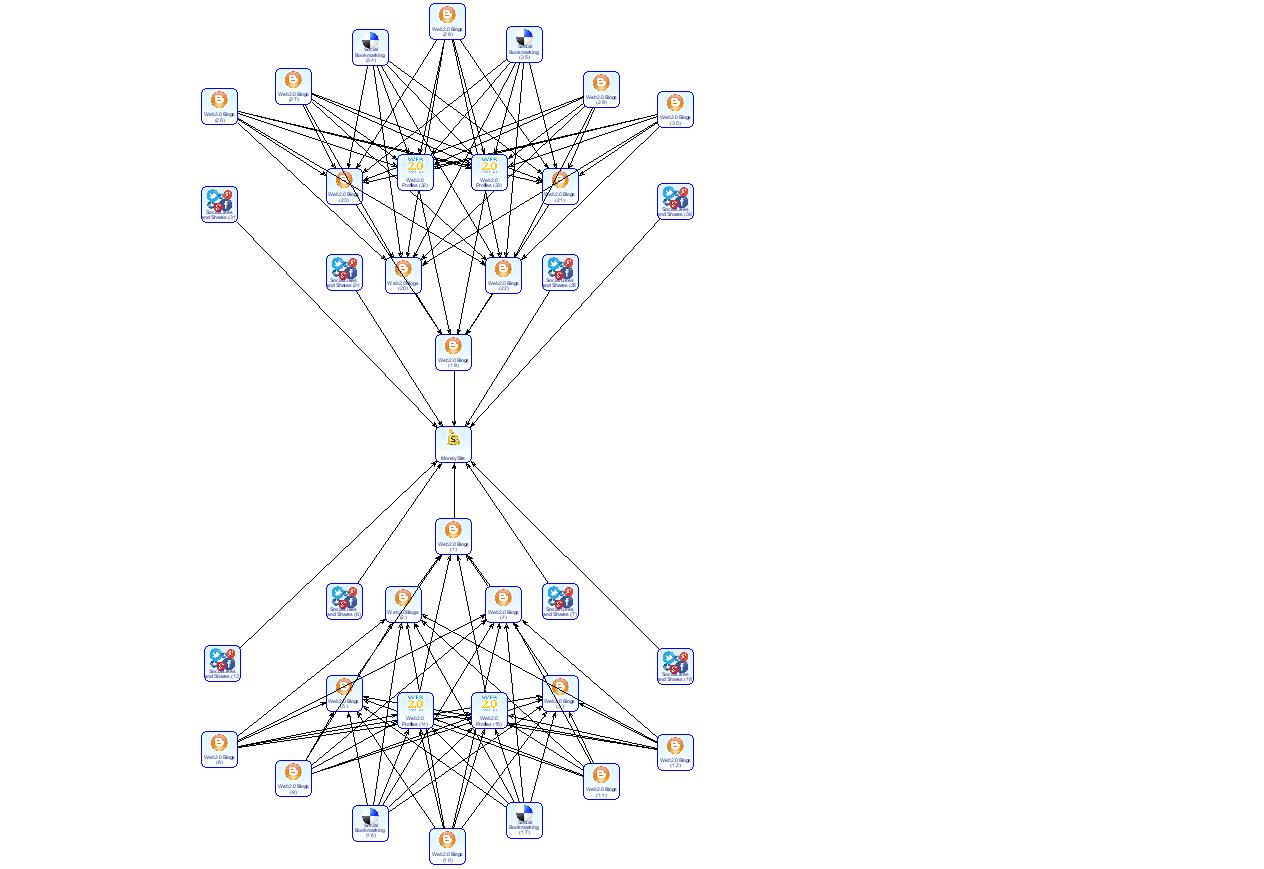 DIAGRAM: 1 > 2 > 2 >12 - CODE: F1C5F1RZK
DIAGRAM: TRIUMPH POWER - CODE: E5BE91S6S
DIAGRAM: WEB 2.0 STAR - CODE: 48B18GJC
Description:
Earning accolades for its remarkable efficacy, this diagram has consistently delivered exceptional outcomes, benefitting both websites and YouTube videos. It was meticulously crafted and fine-tuned by one of our SEO specialists.
DIAGRAM: POWER WEB 2.0 - CODE: CFF28FVJ
Description:
Hailing from the expertise of one of our esteemed clients in the Australian domain, this specialized diagram is often employed in tandem with the 1> 3> 12 diagram. It serves as an invaluable tool for the meticulous categorization of web pages and video content, making it an indispensable asset for SEO professionals and digital marketers alike.
DIAGRAM: (4 TIERS) 2> 2X6> 2X7> 1> SOCIAL - CODE: A75609MI
Description:
Unlock the potential of this formidable link building diagram, a versatile asset adept at enhancing the rankings of both videos and websites. This strategic blueprint comprises an array of web 2.0 blogs, complemented by a strategic infusion of social signals. At its dynamic fourth tier, it features two additional social signals strategically calibrated to expedite the ranking ascent of the preceding tiers. Explore the synergy of elements that drive results and elevate your digital presence.
DIAGRAM: TREE POWER (FOR BIG NICHES) - CODE: 4AF8BN5Q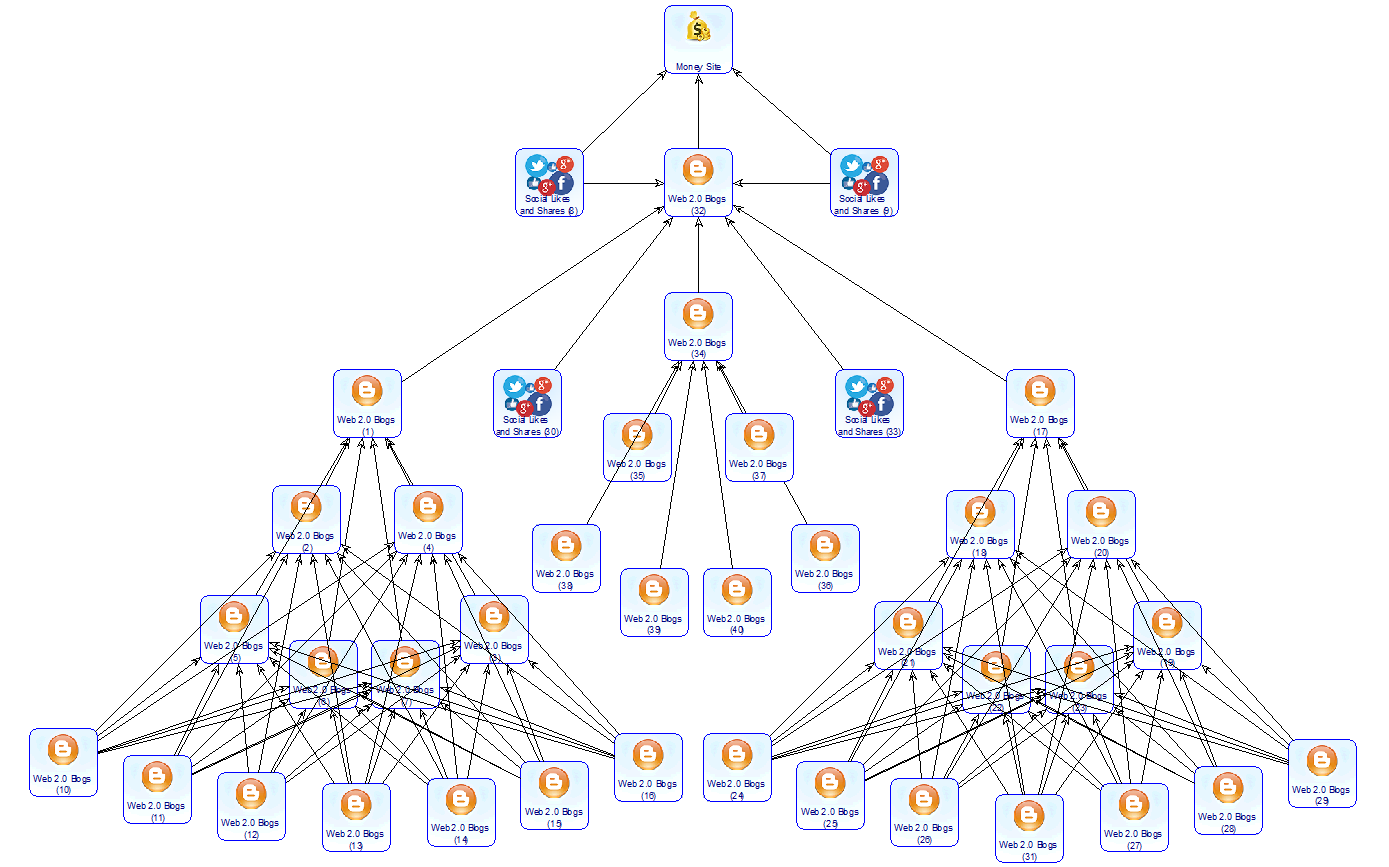 Description:
Within the realm of SEO strategies, this link building diagram emerges as a true powerhouse, meticulously engineered to thrive exclusively within expansive niches. Its potential truly shines in grand-scale endeavors, rendering it unnecessary for deployment in standard niches. Notably, this diagram weaves a network of remarkably potent tier 1 links, consistently delivering outstanding results that propel digital success to new heights. Explore its unique capabilities tailored for substantial endeavors.
DIAGRAM: WEB 2.0 X 3 POWERED UP WITH SOCIAL BOOKMARKS - CODE: F6525P4G
Description:
Dive into the intricacies of this four-tiered diagram, where the synergy between Tier 3 and Tier 4 social bookmarking plays a pivotal role in expediting the indexing process for web 2.0 blogs. By accelerating the indexing pace, this diagram paves the way for swifter rankings attainment, unlocking the potential for quicker and more impactful results.
DIAGRAM: WEB 2.0 SHIELD - CODE: C46ACKSW
Description:
Tailored to niches that tread the line between size extremes, this diagram finds its sweet spot. Harnessing the intricate web of tier 2 tasks, it funnels substantial power to tier 1, thereby significantly amplifying the pace at which rankings ascend. Strike the perfect balance for your SEO endeavors with this versatile and strategically crafted diagram.
DIAGRAM: SOCIAL STAR -CODE: 2C239KS6
Description:
Engineered to deliver an abundance of social signals, this diagram surpasses the norm, expediting the indexing process for your links. Remarkably, it accomplishes this feat within a notably brief timeframe, making it a standout choice for those seeking rapid results in the world of SEO.
DIAGRAM: SOCIAL BOOKMARKS' POWER - CODE: B3070KSL
Description:
Achieving rapid indexing and delivering equally swift results, this link building diagram is a powerhouse in the SEO landscape. Comprising an intricate structure of 8 strategically positioned social bookmarks, it fortifies web 2.0 blogs within a well-defined 3-tier framework, synergizing to drive exceptional outcomes at an accelerated pace. Explore the efficiency of this dynamic strategy for your digital success.
DIAGRAM: 1> 3> 12 + SOCIAL BOOKMARKS - CODE: 20B24OQ9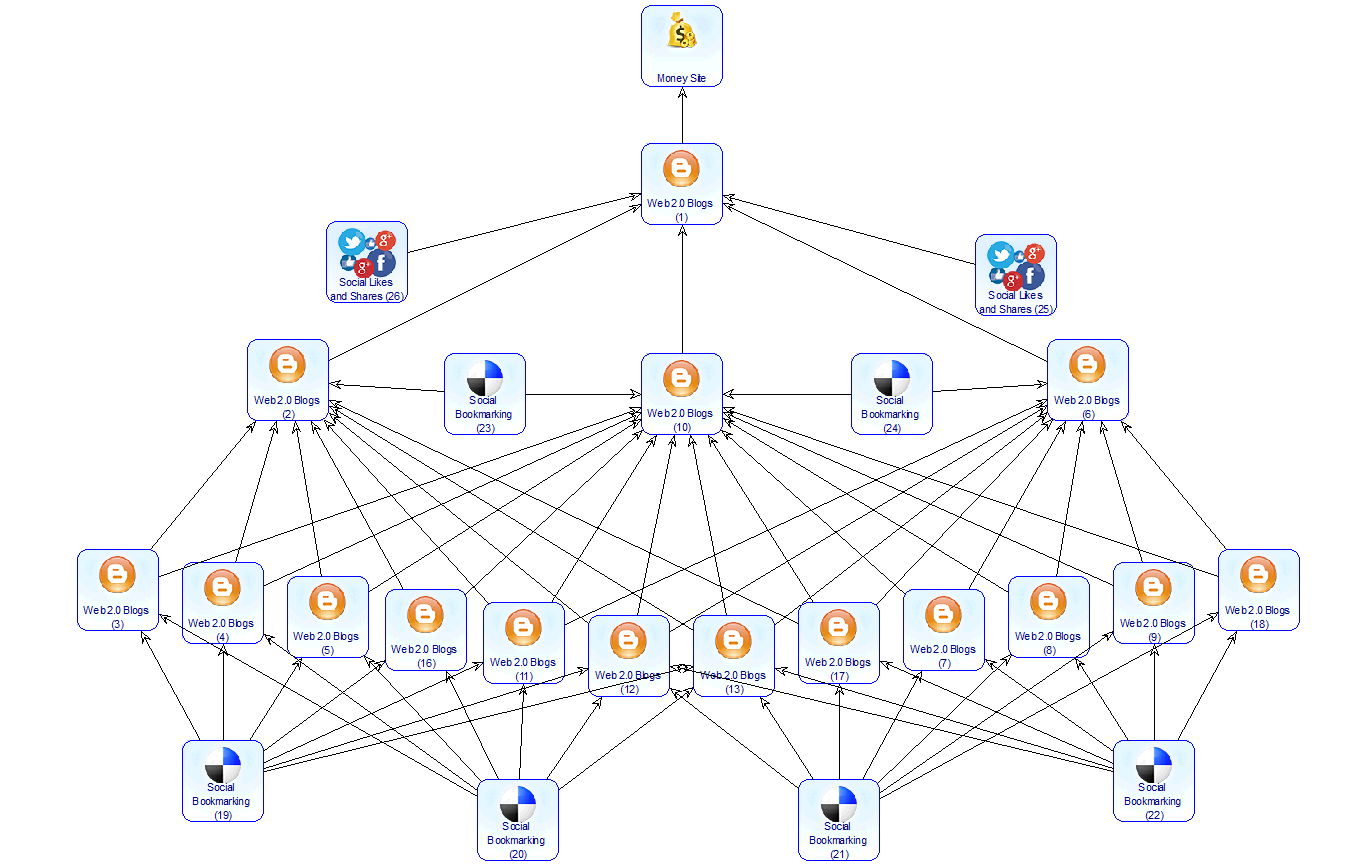 Description:
Presenting a dynamic variation of the renowned 1> 3> 12 link building diagram, this iteration introduces a carefully curated ensemble of 6 strategic social bookmarking tasks. These tasks serve as catalysts, expediting the indexing process for web 2.0 blogs, all while maintaining the core principles of the original blueprint. Discover the enhanced efficiency of this evolved strategy for rapid results.
DIAGRAM: 1 > 6 > 24 - CODE: B5D23N5H
Description:
This meticulously crafted link building diagram is tailored to thrive within the expansive and moderate niches of the digital landscape. Boasting a robust framework, it encompasses 6 strategic tasks at tier 1, complemented by a formidable assembly of 24 tier 2 tasks, further augmented by an array of pivotal social tasks. Explore its prowess in driving results and elevating your SEO endeavors to new heights.
DIAGRAM: POWER PBN - CODE: 09870KSF
Description:
Specially engineered to fortify four distinct web 2.0 tasks, each strategically hosted within a PBN framework, this diagram stands as a potent catalyst for achieving rapid results and expediting the indexing of valuable link building. Unleash the power of this dynamic strategy to propel your digital presence to new heights.
DIAGRAM: MASSIVE SITES 12> 24 + 2 SOCIAL SIGNS - CODE: C39AENWD
Description:
Tailored exclusively for websites boasting an extensive array of pages, this link building diagram is strategically engineered to generate a multitude of tier 1 links, a highly advantageous asset for such expansive online platforms. To maximize its efficacy, it is advisable to deploy this diagram with a campaign comprising 50 to 100 URLs, with each URL benefiting from the acquisition of a pair of valuable backlinks. Harness the potential of this blueprint to bolster your SEO endeavors for large-scale websites.